Wondering Why Nani's Esthetics offers the Best Facial Treatment in Town?
It's a medical grade facial treatment ideal to treat conditions such as melasma, acne, rosacea, hyperpigmentation among others. Her treatment rejuvenates skin and has an instant lifting and brightening effect.When the hyperpigmentation has hormonal origins, common believe says it is incurable. However, it can be treated and controlled.
Nani incorporates to her facial treatment the 13-in-1 multi-function facial machine. A suite of the latest technology packed into one piece of equipment. It includes a light chemical peel, micro current, and LED (red or blue) light therapy. The light therapy reduces redness and inflammation. It improves the skin structure and texture in a safe way.
In addition, you will be pampered with a face massage. Monat Skincare products is used for optimum results. Created to optimize texture and elasticity while minimizing the appearance of fine lines, wrinkles and age spots.
MONAT Skincare offers a complete solution for radiantly beautiful skin that inspires confidence at any age. Harnessing the natural power of revitalizing botanical oils, nutrient-rich exotic fruits, plant-based stem cells and a rejuvenating exclusive peptide, MONAT offers the most advanced approach to anti-aging skincare available at Nani's Esthetics and Laser Center today.
Nani take a multidisciplinary approach and while certain procedures work for some, they may not have the same effect on others. There is no one-size-fits-all treatment. Nani advocate a personal approach where she applies all her knowledge, her 20+ years of experience as General Esthetician, her extreme passion on beauty aspects, dedication on what she does, and most of all...is the LOVE that she has for her clients.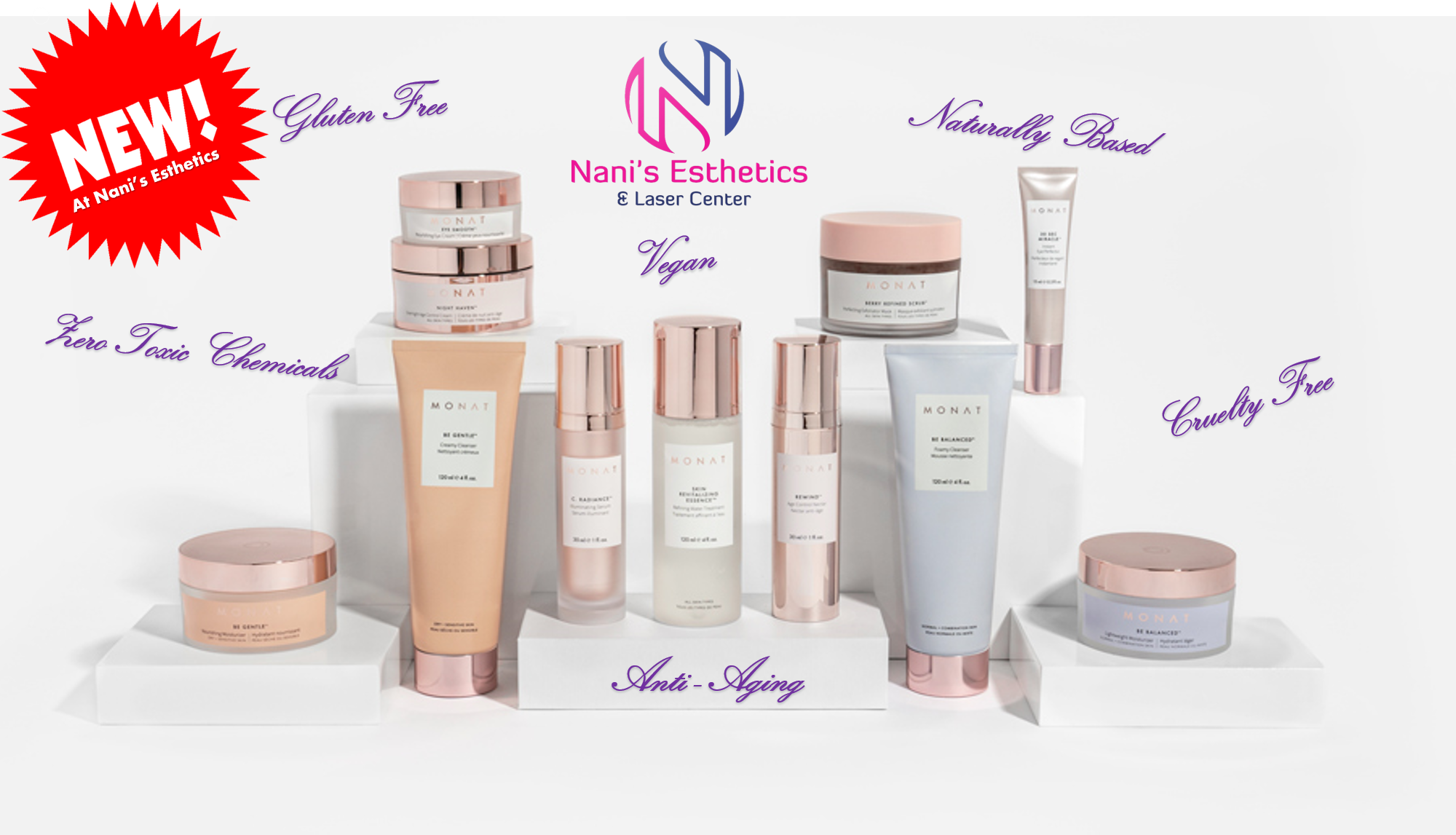 13-in-1 Multi-Function Facial Machine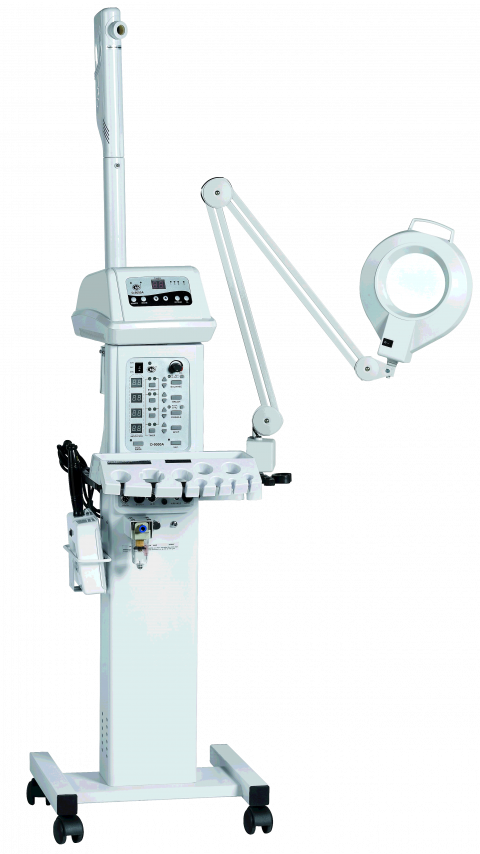 1.High Frequency - Stimulates circulation of the blood, increases glandular activity, aids in elimination and absorption, increase metabolism, germicidal action, generates heat inside the tissue and aids in deeper penetration of products into the skin.
2.Vacuum - works to suction out the deeply embedded dirt, grease and other impurities and provides deep penetrating facial massage and draws blood to the surface of the skin.
3.Spray - helps achieve thorough cleansing of the skins surface. Great for flushing out the pores after suction and extractions.
4.Facial Brush - cleanses into pores to remove any dirt and debris. Helps accelerate the lymph circulations and remove toxins. Also helps stimulate acupuncture points.
5.Galvanic -Utilizes sonic vibrations to reduce lines, leaving the skin firm.
6.Facial Ozone Steamer - Steam causes pores to expand and stimulates blood circulation. Increase cell oxygenation.
7.Magnifying Lamp - It can make observation cleaner, so acne and dark spots are easily to be found.
8.Woods Lamp - Uses deep violet rays to expose skin conditions that normally are not visible.
9.Skin Massager -Plaster brush for dead surface or coarse skin.
10.Spot Remover - Removes all types of surface skin growths including skin tags, moles, age spots, ruby points, keratosis, cholesterol deposits, and warts. Also removes unwanted tattoos.
11.Hot Treatment -Accelerates both blood and lymph circulation.
12.Cool Treatment -Calming the skin - ideal for use after dermabrasion treatments; it will reduce redness of the skin.
13.Super Penetration Wrinkle Remover - Utilizes ultrasonic technology to soften thrombus and remove erythema, reducing scars after acne has been treated, remove abnormal skin color, decompose abnormal pigment and remove flecks under the skin, prevent/remove wrinkles and extravagate blood, remove "pouch" and "black eye", treat sclerosis.

Nani's Esthetics Eye Lash Extensions
Do eyelash extensions ruin your natural lashes?
The biggest myth is that lash extensions ruin your own lashes. They do not. If applied correctly and properly, they are safe and do not ruin the health of your natural lashes. Be sure not to rub your eyes or tug or pull on the extensions because this can cause lash loss and even damage to your natural lashes.

Why do my lash extensions only last a week?
Your lash extensions only last a week!
This often happens when not enough lash extensions have been applied. If you think you've found the cheapest technician around then the chances are they aren't spending enough time during the appointment to provide a long lasting, full lash effect.

Lash Extension Showering and Care. How to take Care of my Lash Extension?


1. We recommend you to not
shower or wet your lash extensions for 24 to 48 hours once they are applied. This wait time allows the adhesive used


to completely bond with your natural lashes. Once the lash adhesive is completely dry, you are free to shower or go swimming.

2. Wear goggles to the shower. As silly as that may sound, wearing goggles will help keep your extensions dry while allowing you to shower.
If the idea of wearing goggles to the shower does not seem appealing, avoid direct contact between your extensions and the water from the
shower.
3. Don't submerge your face in the shower stream. You can wash your face before or after your shower.
4. When washing your face, use cotton pads with your favorite facial cleanser to remove makeup, dirt and oil. This will allow you to avoid getting
your extensions wet.
5. To remove eyeliner without wetting your extensions, you should use Q-Tips and a bit of an oil-free makeup remover. Gently swipe the Q-Tip
along the eyeliner line and away from the lash extensions. Repeat until the makeup is removed.
6. Remember to never rub your lashes when cleaning them. Rubbing your lashes will cause damage and break the bond between the extensions
and your natural lashes which will result in shedding.
7. Do not use cotton balls when cleaning your eyes while you are wearing lash extensions. Cotton balls tend to leave behind fuzzy pieces that can
cause eye irritation or other issues.
8. Avoid multiple streams of water, like the ones coming from shower jet panels or from high pressure rain shower.
9. Do not use oil-based cleansers when cleaning your face or eyes when you have lash extensions.
10.Finally, try to avoid waterproof mascara and eyeliner formulas. They are difficult to remove without rubbing.

"You're never fully dressed without a full set of nails!"
Nani's Esthetics Manicure will clean and shape your nails and treat your cuticles, which is vital for keeping your nails healthy and strong. During a manicure your hands will be exfoliated to remove dead skin cells and to improve circulation and stimulate blood flow.




A manicure is usually very soothing. It can be nice to have someone touch your hands and nails, especially if Maria, our Nail Technician uses hand massage reflexology techniques to relax you.




If you prefer absolutely perfect polish and medium to long nails, you'll need a professional manicure once a week. If you favor shorter nails for a more active lifestyle, and you can do polish touch-ups at home, you may need a professional manicure only every two weeks.





Getting your nails done can be both a therapeutic process and a necessary grooming habit for you. Nani's Esthetics is here to provide that calming and soothing experience for you. It's time to relax and unwind from your daily stresses at our Esthetics Center. Here at Nani's Esthetics, we offer many nail services — from nail designs to gel nails. Our nail technician's goal is to make you look and feel better about yourself. We always welcome new customers and walk-ins, so if you want to get your nails done on a whim, just come on in to our esthetics center and we'll show you a relaxing time!
Keeping Healthy with Pedicures
Regular pedicures not only help keep feet looking pretty, they also keep nails trimmed, calluses controlled and skin moisturized. In addition, a foot massage helps to relieve tension and stimulate circulation.


Pedicures are not only important just before summer when you shed your boots for classy sandals and you want to make sure that your feet are presentable for a business setting. They are also important for the health of your feet and for your overall health. Here we will go through some of the health benefits of getting a regular pedicure.





Reduces chance of infections


Pedicures moisturize your feet to prevent cracks from developing and causing infections. They also clean dirt and bacteria from your feet to prevent fungi from growing. Professionally cleaning and cutting your nails will also help prevent ingrown toenails and infections.




Keep Calluses under control

Calluses form because an area on your foot is being rubbed. This is the body's way of protecting that area, but if it continues long-term, the skin can break down and can form a painful ulcer or sore. Pedicures provide the extra moisture to help prevent calluses from forming, and they also remove calluses before they cause issues. In the same way, exfoliating the dead skin on your feet will prevent it accumulating and causing bunions or corns which can also be painful. Removing this dead skin also promotes the growth of new, healthy and attractive skin.

What is Gel Sculpted Nails and Acrylic Nails?

Gel extensions and acrylic nails aren't identical, but they are similar. Acrylic is a two-step process that involves liquid and powder which air dries.

Gel extensions use hard gel or structure gel and are cured with a UV or LED light both techniques have a similar look and feel.
Sculptured Nails. A sculptured nail is when a gel is applied over the entire natural nail. A piece of foil is used as support when shaping the white tip of the nail. Then a lighter, usually pink, colored gel is applied to the base of the nail and shaped to cover the nail entirely and meet with the tip.

Acrylic nails are a mix of powder and liquid monomer that's combined into a blob of dough, shaped onto your nails with a brush, and then air-dried. Acrylics do not require a lamp to cure, and they're great for changing the shape or extending your nails. Acrylic nails can help women who naturally have unhealthy nails that chip or break easily. This helps prevent painful breaks and allows you to do things that you might not otherwise be able to without fear of breaking your nails. They are very resistant and avoid the cracking of the nails, so they are perfect for women with weaker nails or tending to break. Its maintenance is every 15-20 days (depends on the growth of your nail) and they are very durable.

If you're looking to get a fresh set of nail extensions, prepare to spend at least two hours hours sometimes more in the nailtech/esthetician chair. It's a process that should not be rushed, so depending on the length and shape of the nail you are going for, you should dedicate 2-3 hours. If you're getting nail art, that takes up some time too and extra cost.


Benefits of Paraffin Wax

Cosmetically, Paraffin Wax is often applied to the hands and feet. The wax is a natural emollient, helping make skin supple and soft. When applied to the skin, it adds moisture and continues to boost the moisture levels of the skin after the treatment is complete.

It can also help open pores and remove dead skin cells. That may help make the skin look fresher and feel smoother. It acts like a form of heat therapy and can help increase blood flow, relax muscles,and decrease joint stiffness.

Paraffin wax can also minimize muscle spasms and inflammation as well as treat sprains.